After spending 3 months travelling to many parts of Ethiopia, we decided that the Blue Nile Falls near Bahir Dar are our favourite destination in Ethiopia! We loved it there and wished we could've stayed for a bit longer. The actual journey there is fun, the location is truly amazing and we pretty much had the place to ourselves. And to our huge delight, it was an affordable experience.
GETTING TO THE BLUE NILE FALLS FROM BAHIR DAR
The journey to the Blue Nile Falls is certainly a little adventure! First, you will have to get yourself to Bahir Dar. There are buses that run direct from Addis Ababa to Bahir Dar every morning which are comfortable and will get you there in about 10 hours – locals will say the journey is 6 hours, but it's definitely not less than 10! There is also a flight from Addis to Bahir Dar 5x per day that takes 1 hour (read our blog post to learn how to get 50% off domestic flights with Ethiopian Airlines).
After this, the adventure certainly begins. The Blue Nile Falls are located about 1 ½ hours outside of Bahir Dar and you have two options of getting there:
Private Mini Bus – approx. 200birr per person or Local Bus – 15birr per person on the 'very local' bus! (Don't worry, they are safe)
The actual road from Bahir Dar to the falls is 30km long, and when we ventured out there, it was very much under construction. The road is bumpy and will test your personal space boundaries. The local buses are crammed with people, but as the journey isn't too long, we thought it was manageable.
Once you arrive at the village called Tissiat, you will then need to walk about 20mins in total and take a short 5 minute boat ride to get to the waterfall. All up the journey takes about 2 hours from the bus station in Bahir Dar to the Blue Nile Falls' edge.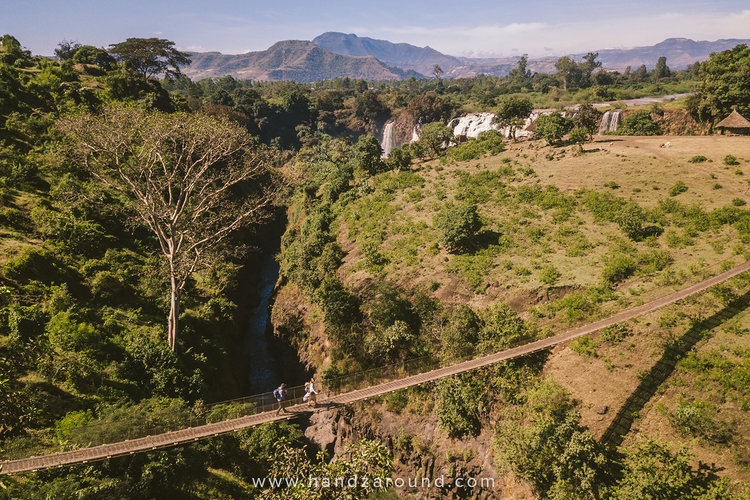 So, why did we love it? Here are four reasons why Blue Nile Falls near Bahir Dar is our favourite destination in Ethiopia.
STUNNING LOCATION OF BLUE NILE FALLS
We spent a night camping there in November which meant the rainy season was well and truly over, and the actual falls were raging with water! Everywhere around the falls is clean and green. There are easy walking paths with vast open landscapes to explore and some great lookouts to get an amazing view on the falls. The sun sets directly in line with river leading up to the falls, and rises from behind the hills in the morning. There are thousands of birds flying around and you just feel like you are totally out there, in nature. Check out some shots of the location in our Ethiopia Travel Film.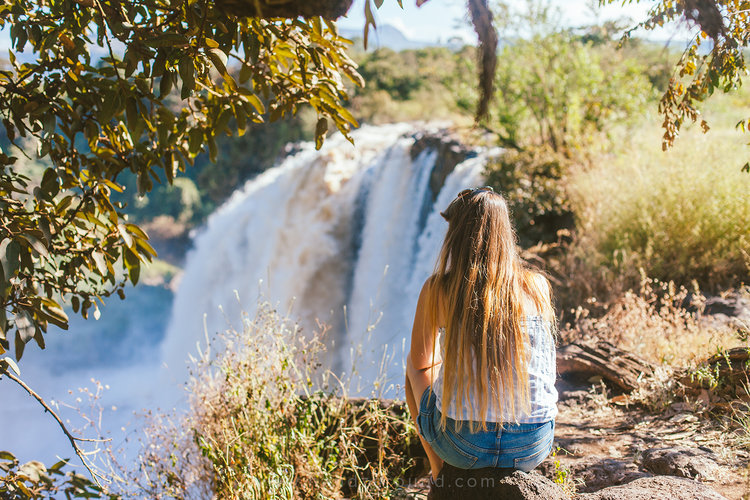 BACKPACKER FRIENDLY DESTINATION
Seeing the falls is cheap and we do love living on a budget! In total we spent just over 1,000birr (approx. 36 USD). This included getting there and back from Bahir Dar, camping, entry fees, boat rides, dinner, breakfast and some beers. We were so happy to discover that the prices were so backpacker friendly.
Here is a breakdown of what we spent for our night at the falls
Transport by local Bus there and back from Bahir Dar = 60birr
Entry Fee – 50 birr per person = 100birr
Boat ride – 10birr per person each way = 40birr
Camping in our own tent = 100birr per person per night = 200birr
Dinner = 150birr per person = 300birr
Breakfast = 100birr per person = 200birr
Beers = 30birr each (We had about 8 beers between us) = 240birr
Total Cost = 1,140birr (900birr if you minus the beers)
CAMPING NEAR THE BLUE NILE FALLS
When we say you get close to the falls, we mean you 'feel the spray from the falls' kind of close! We were so not expecting to be able to get right next to them – it was a pleasant surprise. You can really feel the power of the falls as you stand mere meters from the edge!
There is a campsite literally 25 meters away from the falls edge where you can sleep whilst listening to the falls roar at night. A short walk around the campsite takes you down to where the falls land so you can get a close up view. Just be prepared to get a bit wet as the spray carries quite some distance from the edge (if the falls are full of water).
The campsite is basic, but there is a drop toilet, bucket shower available and a common area that is sheltered, as well as some basic food options.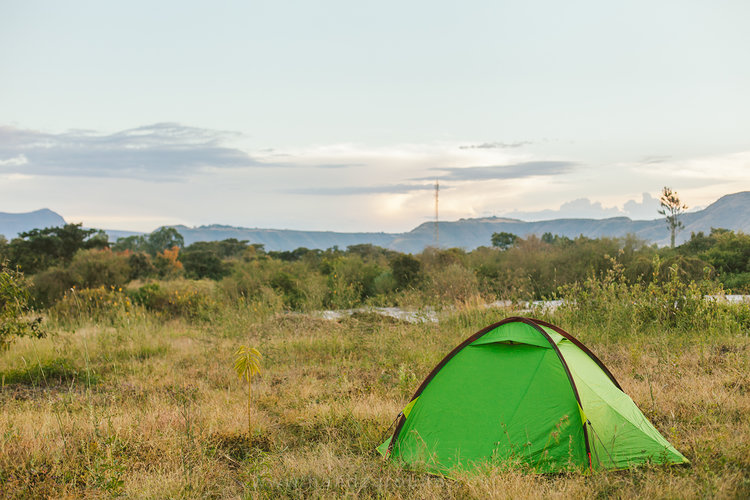 NON-TOURISTY SPOT IN ETHIOPIA
We couldn't find too much information about visiting the falls online, and this may be the same for others. When we were there, only one other person was camping for the night, and just a handful of tourists appeared during the day to take a couple of snaps of the falls and then quickly moved on. After about 3pm, no more tourist groups appeared, and we literally had the place to ourselves! Which we totally loved.
There will be 3 people accompanying you, if you choose to camp for the night. The manager, the cook and an armed guard (apparently there are leopards nearby – or so said the manager). This made for a pleasant experience in which we could take our time and just enjoy being in such a spectacular location without anyone getting in their way of our cameras.
The Blue Nile Falls near Bahir Dar are definitely our must-see place in Ethiopia. Everything about them was exactly what we were looking for – they were wild, impressive, untouched and affordable. We highly recommend adding them to your Ethiopia itinerary and experiencing them for yourself.
Love camping? Check out our blog post and short film about Glamping in Northern Kenya at Sieku Glamping our adventure in the Ngare Ndare Forest.